Early on the morning of September 20, 2012, University Settlement's own Ingersoll Community Center, located in Fort Greene, Brooklyn, hosted a kickoff event for the Sixth Annual Dads Take Your Child To School Day. The event, which was co-hosted by the NYC Department of Youth and Community Development's Fatherhood Initiative, and the Brooklyn Nets, was attended by Nets players Deron Williams, Jerry Stackhouse, and Keith Bogans, as well as NYCHA head John Rhea, DCYD Commissioner Mullgrav, and University Settlement CEO Michael Zisser. Following the kickoff, 300 students, along with their families, guardians, and Brooklyn Nets players walked together to PS 67. Check out this write-up featured on DNAinfo.com describing the special event.
Click here to read the full article online!

---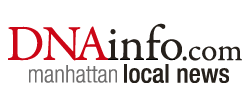 Nets Players Join Dads to Walk Local Kids to School
September 21, 2012
By Janet Upadhye
FORT GREENE — Dozens of Fort Greene fathers walked their children to school in honor of New York's Sixth Annual Dads Take Your Children to School Day. And Brooklyn Nets players Deron Williams, Jerry Stackhouse and Keith Bogans took the opportunity to connect with the community.
"This is a special event for me, because I'm a father. It's really great that you guys are involved in your kids lives," said Nets point guard Williams to fathers sitting in the packed school auditorium.
Little boys beamed up at the basketball players on the three block walk from the Ingersoll Community Center to P.S. 67,the first school in Brooklyn founded specifically for African American youth, first named The African School in 1815. Hundreds of onlookers snapped pictures and followed along, creating a buzz as the group was welcomed into the school.
Upon arrival, children were given free backpacks from Deron Williams' foundation and tickets to a Nets home game.
As the new season approaches, the Nets are cozying up to their new home and plan to be involved in many community events to come.
"Children in this community are going to grow up aspiring to play on that basketball court, to box in that ring, and to one day appear on that stage," said Brett Yormark CEO of the Nets, referring to the soon-to-open Barclays Center. "The Nets are going to do as much as we can for this community."